What Does The Blue Star Mean On Tinder?
This post may contain affiliate links. Please read our disclaimer for more information.
So, you're swiping on Tinder and you're wondering: what does the blue star mean?
Tinder released another feature, Tinder Super Likes, a while ago. And this different type of swipe is one of the best ways to get someone's attention on the app and to get more matches.
But it's also important to know how to use Tinder Super Likes right and where you can find them within the app.
That's why this post is covering what the Tinder blue star means and how you can use it the right way.
What Does The Blue Star Mean On Tinder?
The blue star on Tinder means you're Super Liking someone when you swipe on them. You Super Like someone by swiping up, and this highlights your profile with a small blue star when someone sees you in their match queue so they know you really like their profile.
You can also send a Super Like by tapping on the Tinder Blue Star on a profile in your match queue rather than swiping up.
When you get a Super Like from someone else on Tinder, you also see a small blue star next to their profile name in your match queue so you know they really like your profile.
According to Tinder, a Super Like increases the odds of a match by about 300% versus a regular swipe right on someone's profile.
What Does The Blue Star On A Tinder Profile Mean?
The blue star on someone's Tinder profile means you've matched with that person because of the Super Like feature. In other words, it either means your match sent you a Super Like or you sent them one and then you both matched.
This is similar to the Tinder gold heart on people's profile that indicates you matched because of Tinder Gold.
What About Tinder Top Picks?
Another place you can find blue stars on Tinder is in your Top Picks section of the app.
Tinder Top picks displays profiles in your area that Tinder thinks you're most compatible with. It also highlights some of the most popular profiles as well that get a lot of likes.
Tinder places blue stars on all of these profiles which encourages you to Super Like them to stand out from the crowd.
You can also tap on someone's profile from your Top Picks section and then swipe left or right like normal.
How Do You Get Tinder Super Likes?
You need to pay for Tinder Gold or Tinder Platinum to unlock Tinder Super Likes. Each plan gives you a free 5 Super Likes per week, plus other perks like a monthly free Tinder Boost and unlimited likes per day.
Unfortunately, Tinder Plus doesn't give you free Super Likes. This plan used to give you five free Super Likes every 24 hours, but now, you only get free weekly Super Likes with Gold and Platinum.
You can also buy packs of Tinder Super Likes if you prefer paying one-time for this feature rather than paying monthly for Gold or Platinum.
Here's how much Tinder Super Likes cost:
3 Super Likes: $4.25 each ($12.57)
12 Super Likes: $3.19 each ($38.28)
50 Super Likes: $1.91 each ($95.50)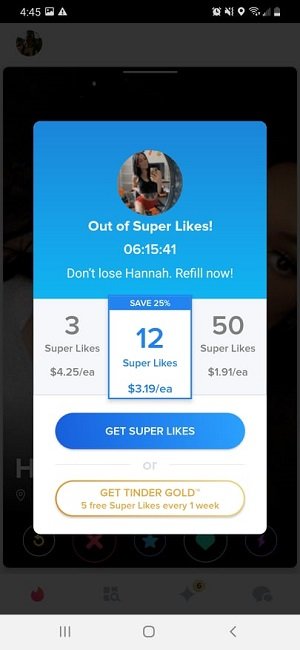 Honestly, this is very expensive for just a handful of likes. Plus, you can use other dating apps like Hinge, which lets you send Hinge Roses and more personal likes, for a similar effect.
Extra Reading – Does Tinder Notify When You Screenshot?
How To Use Tinder Super Likes Correctly
Now that you know what the blue star on Tinder means, it's time to cover how to use this feature correctly so you don't waste your Super Likes.
After all, a Super Like shows you really like a profile, so it's an effective way to get a match with someone you're excited about if you really like their profile.
Here are some tips for how to use Tinder Super Likes correctly:
Have A Complete Profile: Before using the Tinder blue star, make sure you complete your own profile to increase the odds of a match. This means adding multiple nice photos and writing a unique Tinder bio that brings out your personality.
Make Sure You Have Something In Common: A Tinder Super Like increases the odds of a match, but do you really want to match with someone you have nothing in common with? Ideally, use the Tinder blue star on profiles where you obviously have a lot in common.
Swipe Within Your Attractiveness Level: This is a bit of a tough pill to swallow, but there's no point in Super Liking a profile on Tinder where the person is way more attractive than you. This is essentially a wasted Super Like since the odds of them matching with you is very low. This is just the reality we live in, although you can still try if you have a lot in common with someone and want to give things a shot!
Add In Some Humor: Using a blue star on Tinder can be seen as cringey if you come off too strong with your following messages (if you match.) So, don't be afraid to keep things light or to add some humor in so you're not very intense out of the gate.
If you want more advice on how to use the blue star on Tinder, you can also watch this video from YouTuber Ultimate Man Project:
In this video, he covers tips for getting more matches by using the blue star on Tinder, so you won't be wasting those precious Super Likes!
Extra Reading – How Many Likes Do You Get A Day On Tinder?
Final Thoughts
I hope our guide on what the Tinder blue star means helps you understand what this feature is and how to maximize its effectiveness.
As long as you update your profile, use good photos, and use Super Likes the right way, there's no reason you can't benefit from this feature.
Just remember to have fun and not to take apps like Tinder or Bumble too seriously; this is supposed to be for fun after all!
Best of luck with using those Tinder blue stars!
Looking for even more dating content? Checkout: