12 Vital Things Every Guy Should Have In His Bedroom
This post may contain affiliate links. Please read our disclaimer for more information.
A bedroom is one of the most essential rooms in your home. But, for some strange reason, most guys don't realize this fact.
I mean, think about your average female bedroom. You might find things like throw pillows, or a nice set of sheets, or, if you're really feeling spicy, wall art.
Yup, I said it…wall art.
In contrast, you look at the average dudes room, especially young dudes, and it's often filled with piles of dirty laundry, random video game paraphernalia, and strange odors. I lived in a college dorm and with 3 other college buddies later on in a student house, so I know.
This is honestly pretty unfortunate.
It's important to make your bedroom a space you enjoy being in, as well as one that offers complete relaxation when you need it the most. You want to start and end your day right by waking up/falling asleep in a pleasant space.
Plus, you don't want a potential date to think you're an absolute slob or creepily minimalistic .
Thankfully, there are several essential things every man should have in his bedroom. Take a look around yours, and if you're missing any of these items, be sure to grab them the next time you go shopping to elevate your bedroom game.
Bedroom Essentials for Guys
If you're ready to create the perfect bedroom, you're in luck!
Let's dive into some of the most important things to have in your room for guys you can use to make sure your bedroom is up to the right standards.
1. An Alarm Clock (That Actually Works)
It's true that most smart devices and phones have a built in alarm clock.
But, how often have you set an alarm on your phone after a night out with some friends, only to have your phone die overnight or to not have your alarm clock go off for whatever reason?
Having a physical alarm will help prevent this from happening. Plus, it will make it easier to set a regular sleep schedule since you can program your alarm clock and then forget it!
Buy This Look – Checkout The Wooden Electronic Display Alarm Clock on Amazon!
2. High Quality Bedsheets, a Solid Mattress, & Bed Frame
It's absolutely essential to have quality sheets on your bed. Your bed itself should also have a comfortable mattress and, you guessed it, a bed frame for said mattress.
All three of these are really bedroom essentials that should help you get a good night sleep and also complete the look of your room.
When I lived in college, I just slept on a mattress box and skipped the bed frame. I definitely got some comments from friends and females alike.
If you're broke, this is honestly pretty understandable since beds are expensive. But, as soon as you can afford it, make sure you invest in a solid set of sheets and a decent bed.
A good night's sleep leads to greater productivity and less stress. You will feel more refreshed upon waking up each morning, and you will actually want to get your day started. You will also feel more motivated and productive if you wake up and go to sleep in a proper bedroom.
In many ways, you can kinda think of a proper bed as an investment for your overall wellbeing!
3. A Dedicated Phone Charger
Having a dedicated phone charger in your bedroom will give you easy access to charging your phone when you go to sleep so you're not scrambling in the morning at 5%.
If you only have one charger, you'll inevitably lose it, lend it to someone, or forget to bring it to bed to charge your phone. Make the simple purchase of an additional charger and don't let it leave your bedroom!
4. A Large Mirror
I don't understand why men don't buy mirrors.
When I lived with my ex-girlfriend, one of the first things we had to buy was a massive floor mirror.
I didn't understand it at first. The bathroom has a mirror after all? Would that not suffice for getting ready each morning? Why on earth do we need more mirrors?
Anyway, I dutifully lugged that stupid and massive mirror on the city bus of all things because we didn't have access to a car at the time. And, guess what…the mirror was awesome.
Getting a floor mirror will help you when you're getting ready in the morning, and it also does a lot to brighten up a space. I don't know what it is, a mirror just completes a room. Please trust me and make sure you have this item in your bedroom!
Buy This Look – Checkout The ONXO Floor Mirror on Amazon!
5. Books!
Reading is a great way to unwind before bed.
Reading helps you to avoid being on a computer or a phone when trying to sleep or relax, and reading is an awesome habit to substitute for things like mindlessly bingeing Netflix or your Instagram feed.
One stellar piece of advice for young men is to always have a book on the go. It helps sharpen your mind and broaden your perspective, and it's just a good habit to get into.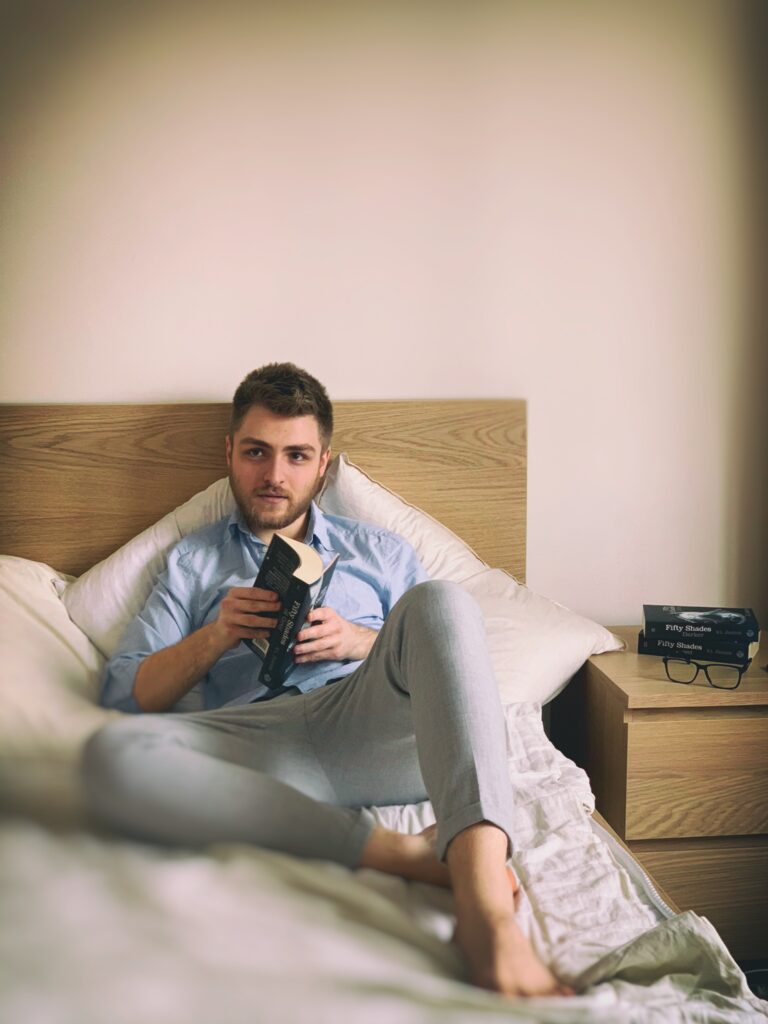 Plus, what do you think is more attractive for a date who ends up back at your place…a well-kept room that's organized and also has a tasteful collection of some top-notch novels, or a room with nothing but an Xbox and some Cheeto dust floating around?
Books are cool. Be sure to buy some and keep a few on the go/around in your bedroom!
6. A Good Lamp for Your Nightstand or Desk
Another amazing thing to be is how many dudes rely on gross overhead lighting for their only source of light.
A simple lamp for your nightstand or desk will make a massive difference in how you enjoy your bedroom. Rather than obliterating your corneas at all waking hours with ugly overhead lighting, you can just use a lamp when you're working or when unwinding for bed.
Plus, you can go for something that spices up your room a bit, like a vintage lamp or something else a bit industrial-looking:
This seems like an obvious item to include on a list of things men need in their bedroom, but it's absolutely critical.
You also don't have to splurge here; a simple yet cheap Amazon lamp or Ikea lamp will suffice.
Shop This Look – Find Vintage Lamps on Amazon.
7. Artwork
Many people only put artwork in the common areas of their homes such as the kitchens or living areas. But, artwork can go in the bedroom as well!
And no…your Blink 182 band poster doesn't qualify as art, you sullen 90's neanderthal.
Invest in some cheap prints or artwork that suits your style. Use paintings or photographs, and don't be afraid to visit local garage sales or vintage stores to find some unique artwork.
Alternatively, you can always take a gander for prints on Etsy!
Just make sure your pieces are compatible though in order to bring everything together. If you are unable to hang the art work out of fear of damaging the walls, such as in a rental, put in in frames or put up small sculptures instead to make the room more complete.
8. Scented Candles
Okay don't freak out: I promise you don't have to shop at Bath & Bodyworks for this one or buy a $19.99 candle that smells like shitty guava or whatever they're peddling these days.
Consider buying a simple scented candle with either a masculine scent (think evergreens or woodland stuff) or something neutral, like vanilla or linen. Also, try to avoid the strong, faker smells you'll inevitably get from inexpensive candles.
Set the candle near your bed on a nightstand table or desk. Use it to help you relax or to just, I don't know, make your room smell nice?
This will also be another nifty thing to have in your bedroom if a date or your girlfriend comes over. Nothing sets the ambiance like a candle after all (or your lack of Blink 182 posters on the wall).
9. A Wireless Speaker
Music can completely change the mood of a room, and as soon as you can afford to, invest in a decent wireless speaker.
Now, this isn't just an item to keep in your bedroom, as you can enjoy music throughout the house when you're cooking or when you have guest over.
But, having a wireless speaker in your bedroom is also nice when you want to unwind or get a bit intimate with someone, of course.
If you want a wireless speaker with a bit of a rustic feel to it, I recommend checking out the Audioengine B2 Wireless Speaker:
Some wireless speakers even function as an alarm clock, so this is a nice way to wake up to the gentle whispers of Bon Iver instead of your putrid smartphone alarm.
Personally, this is one of my favorite bedroom essentials for guys, and it's something I personally use every morning and evening and really enjoy.
10. A Solid Desk and Office Chair
A good desk and office chair is essential for your bedroom if you work from home or occasionally work at your desk. These pieces of furniture could also be useful if you are a student and need a space to take care of your college work.
A solid desk should ideally have all of the storage you need. Make sure all of your supplies fit nicely in and on it.
But you can also get creative with certain minimalist wall-mount table setups if you're limited on space:
The chair you choose should be comfortable as well to keep you as productive as possible.
Seriously, don't underestimate the power of ergonomics.
I went for Ikea furniture handed down to me by my sister during college, and it worked great. You don't have to spend a fortune, but make sure you get something that actually functions and doesn't cause back-pain or discomfort.
11. Decorative Pillows
Men often neglect the decorative parts of organizing their bedrooms. Many may feel as if this is not a manly thing to do, but let's be honest here, pillows and blankets are just nice.
One of the easiest ways to pretend you know how to decorate is to invest in throw pillows.
These pillows and blankets can have masculine designs and fairly neutral colors. Alternatively, get some flannel in there, or whatever floats your boat. They will offer a nice decorative touch to bring everything in your bedroom together.
12. A Throw Blanket
One final bedroom essential for men you can consider investing in is a nice throw blanket for your bed.
A throw blanket doesn't have to be super expensive of feminine. But it can work wonders for transforming a room and also making it feel a bit more cozy and warm.
I have a brown fur throw blanket in my room, and it's especially nice in winter when Canada gets quite cold.
Amazon has plenty of affordable throw blankets you can check out, and I've also found decent ones at stores like HomeSense and even Walmart.
Why is Having an Organized Bedroom Essential?
The first step in making your bedroom a serene place in your home is to get organized.
Having an organized bedroom will help you in de-stressing and relaxing. It will also help you to feel more productive overall since you know where everything is located.
Having an organized bedroom also says a lot about you as a person.
As mentioned, if you invite others into your bedroom, you don't want them to be greeted by a small mountain of used tissues and some old pizza boxes.
Treat yourself with respect, and make sure you have the following things in your bedroom!
Final Thoughts
It's all to easy to overlook the importance of your bedroom. But, keeping an organized, comfortable, and eye-pleasing bedroom is important for a variety of reasons.
You should enjoy the spaces you spend time in, and we all spend a lot of time in our bedrooms. Plus, being organized and putting in the effort to have a tidy, well-kept room will help your productivity, your daily routines, and your love life.
There are several core items every guy should have in his bedroom to help make his room more complete. If you're missing any of the items we just covered, it might be worth taking a quick trip to Ikea to fix that!
Thanks so much for reading!
Do you have a must-have item for a man's bedroom? Let me know what it is in the comments!
Extra Reading: