What Does A Gold Heart Mean On Tinder? – The Complete Guide
This post may contain affiliate links. Please read our disclaimer for more information.
It doesn't matter if you're brand new to Tinder or have been using this leading dating app for a while: the app can get pretty confusing at times.
Between all of the different Tinder plans and features like Super Likes and Boosts, there's a lot to unpack here.
One new Tinder feature is gold hearts.
So, you're probably wondering: what are Tinder gold hearts and what do they mean for my dating life?
Well in this post, we're covering everything you need to know about gold hearts on Tinder so you can maximize the effectiveness of this dating app.
What Does A Gold Heart On Tinder Mean?
A gold heart on Tinder is a feature from Tinder Gold that shows you a list of people who have liked you on Tinder. If you're a free Tinder user or on Tinder Plus, you can see your Tinder gold likes by clicking on the star symbol on the bottom of the app.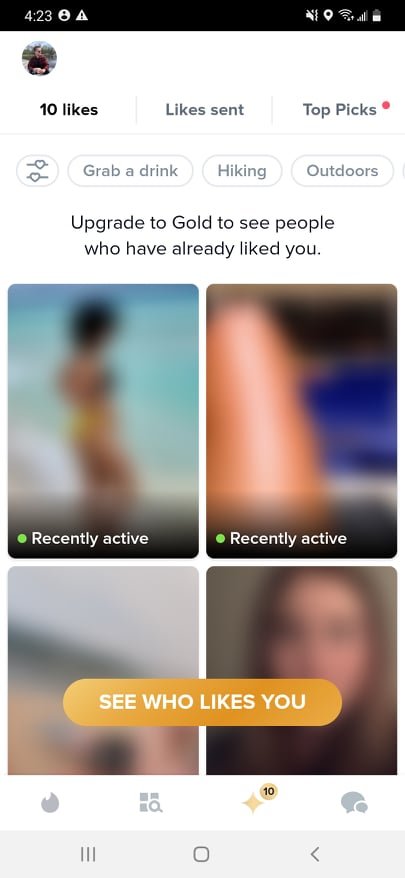 There's a common misconception that a gold star on Tinder means you've been liked by someone who is using Tinder Gold.
This isn't true at all.
Rather, Tinder Gold lets you see who likes you on Tinder so you can choose to match with them or not. If you match with them, their profile is highlighted with gold to indicate that you matched with them because of Tinder Gold.
You can still view a list of people who liked you with Tinder Plus or the free version of the app, but the profiles are blurry and you can't tap into them unless you pay for Tinder Gold.
How Much Does Tinder Gold Cost?
So, gold hearts on Tinder are a feature of Tinder Gold. Therefore, the real question is if you should pay for Tinder Gold or not.
Tinder Gold is the second tier of paid Tinder plans, meaning it's one level higher than Plus.
Right now, Tinder Gold costs around $15 USD and $18.75 Canadian, although this rate is subject to change.
Here are the features you get with Tinder Gold:
Unlimited Tinder likes (like with Tinder Plus)
Tinder passport
5 free Super Likes every week
1 free boost every month
Unlimited rewinds (like with Tinder Plus)
Choose to only be shown to profiles you swipe right on
See who likes you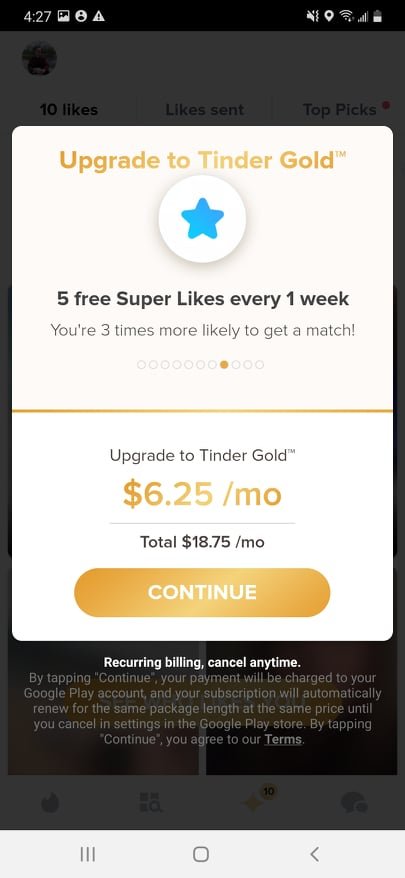 Really, the main reason to pay for Tinder Gold is to see who likes you on Tinder and to get the free Super Likes and Boost.
However, it's definitely a pricey upgrade, especially since you can supplement your Tinder game with other dating apps like Bumble and Hinge.
You can also pay for Tinder Platinum to unlock these features, but this plan is even more expensive than Tinder Gold.
Can Other People See Tinder Gold Hearts?
Other people can see gold hearts on Tinder when they tap on their "see who likes you" tab.
However, if you have Tinder Gold and swipe right on someone and then match, that person doesn't see that you have Tinder Gold.
In other words, gold hearts on Tinder are just a feature you get if you use Tinder Gold and choose to match with someone who has liked your profile.
Should You Pay For This Feature?
So, should you pay for Tinder Gold to unlock the ability to see profiles who like you?
Well, this really depends on what your goals are with Tinder.
Paying for Tinder Gold is a fast way to increase how many matches you get because you get free Super Likes and one free Tinder Boost.
If you're traveling somewhere new or just downloaded the app and want to get things moving, these freebies are very handy.
However, being able to see who likes you on Tinder doesn't matter too much if you already have Tinder Plus. This is because you'll eventually swipe through your area over time anyway and therefore match with those people.
So, Tinder Gold is worth it if you want to get matches more quickly. But if you're on a budget, it's not worth it.
Extra Reading – Is Tinder Worth It?
Tips For Using Tinder Gold Hearts
If you decide to use gold hearts on Tinder by paying for Tinder Gold, here are a few tips you should keep in mind.
Don't Be Weird: If you get a Tinder gold heart, it means someone likes you. But avoid swiping right on them immediately since some people might think this is a bit odd.
Use Your Boosts And Super Likes Wisely: Another perk of Tinder Gold are the free Super Likes and Boosts, so use these wisely!
Be More Efficient: One perk of Tinder Gold is that you can spend less time on the app during the day and just review the people who like you at the end of the day and pick profiles to match with.
Frequently Asked Questions
Why Is There A Tinder Gold Heart Next To Name In Feed?
When you match with someone from your "liked you" queue, they appear in your matches feed with a gold heart next to their name. This indicates you got your match because of Tinder Gold.
Are Gold Hearts On Tinder Special?
Gold hearts on Tinder aren't special and simply show you which matches you have because of Tinder Gold.
What Are Yellow Hearts On Tinder?
Yellow hearts on Tinder are the same as gold hearts and indicate you have a match because of using Tinder Gold's "who likes you" tab.
Extra Reading – Does Tinder Notify Screenshots?
Final Thoughts
I hope your guide clarified what the gold heart on Tinder means and if you should pay for Tinder Gold or not.
Honestly, this is a very efficient way to get more matches on Tinder quickly, which may be of use for you.
We think it's a bit on the pricey side but hey, you date however you want to!
Best of luck out there.
Looking for more dating content? Checkout: