Is Tinder Worth It? – Pricing, Pros & Cons, & What To Expect (2022)
This post may contain affiliate links. Please read our disclaimer for more information.
There's no denying that the modern world of dating is different than in the past.
These days, there are so many dating apps and websites around. Plus, when you factor in how easy it is to connect with people through social media, it's no surprise that a lot of love connections are first sparked through a digital platform.
Personally, I'm still a sucker for meeting people in person. But, I won't deny that dating apps are convenient and more popular than ever before.
So, today, we're going to break down the most popular dating app of them all: Tinder.
Time to find out if Tinder is worth it and to help you answer the classic question: "should I use Tinder?"
What Is Tinder?
Tinder is a social network and dating platform that took the world by storm in 2012.
The app makes it easy to connect with people in your area based on your likes and interests. But, even though you can use Tinder to theoretically look for new friend, at its core Tinder is a dating platform.
Once you build your profile, which contains photos of yourself, up to 500 words of a bio, and your recent Instagram photos/favorite Spotify songs (optional), you're ready to swipe through people in your area to find potential love…or whatever you're looking for.
Swiping right means you're interested in someone, swiping left means you'll pass.
If two people swipe right on one another, they match, opening the option for either person to send a message to get the ball rolling.
How Much Does Tinder Cost? – Different Tinder Plans
Tinder is a freemium app, meaning that core features are free to use but you can pay to unlock certain benefits.
Here is what you get for the free version of Tinder:
That's it.
Nothing changes with your profile, of course, and your Tinder algorithm isn't any worse off (if you aren't getting matches, it isn't because you aren't paying. Sorry for the rough news.)
If you are impatient, you have the option to pay for three different Tinder plans: Tinder Plus, Tinder Gold, and Tinder Platinum.
Tinder Plus – Pricing & Features
Tinder Plus is the first paid Tinder plan. There's no easy answer to the question 'how much does Tinder cost?' since the plan prices often go on sale and vary based on country.
In the United States, Tinder Plus costs around $9.99 per month: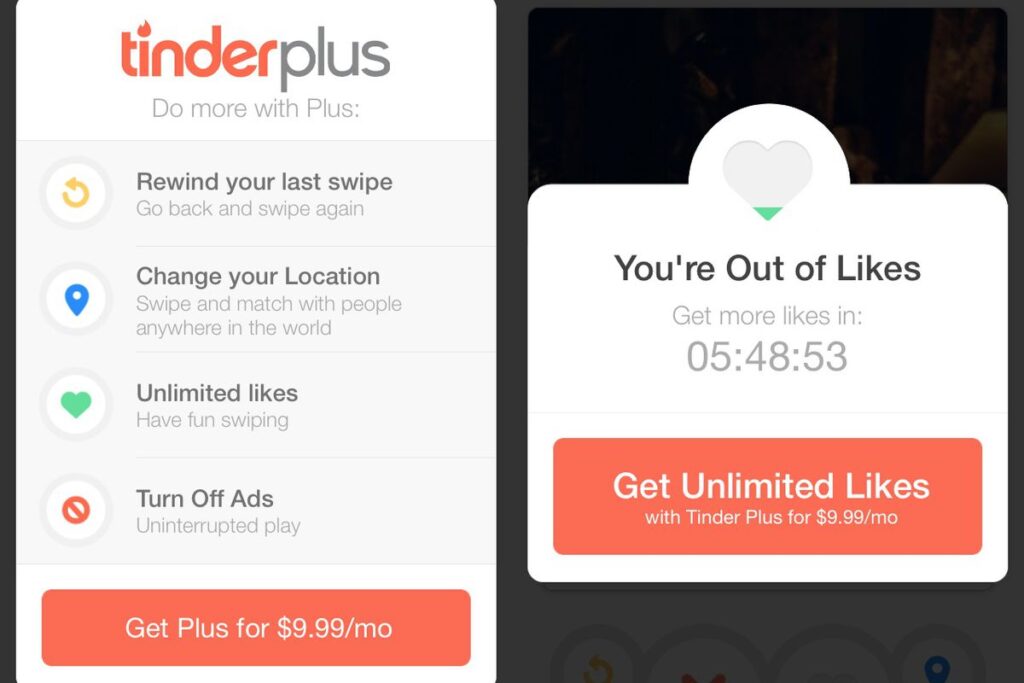 Tinder tries to rope in users by offering better deals for longer commitments. 6 months of Tinder Plus is usually $6.99 per month, and buying a year membership is about $4.99 per month.
Here is what Tinder Plus provides:
Unlimited swipes.
Ability to un-do a swipe.
5 Super Likes per day.
1 monthly boost (this places your profile in front of more people for 30 minutes).
Tinder Passport. This lets you change your location to swipe around the world!
Oh, and Tinder Plus gets rid of ads since the free version sometimes puts ads in your swipe feed.
Extra Reading – Best Time To Tinder Boost.
Tinder Gold – Pricing & Features
If Tinder Plus isn't good enough for you, you can take things further by buying Tinder Gold.
Tinder Gold costs a whopping $30 per month if you don't get it on sale or you don't pay for multiple months of a commitment:
Ouch. Not cheap by any means.
Here's what features come with Tinder Gold:
See who likes you. Anytime someone swipes right on you, you'll be able to see their profile and decide if you match or not. When you match, the match is outlined with a gold Tinder heart.
Top Picks everyday. This feature is garbage, basically it's just a collection of popular Tinder swipes in your area.
Every feature from Tinder Plus is also included.
Tinder Plus vs Tinder Gold
The main advantage of paying for Tinder is unlimited swipes. There's simply no debate.
Sure, Super Likes, rewinds, or Tinder Passport are nifty. The Passport feature is particularly useful if you have a trip coming up and you want to scout ahead for some potential matches.
But, there's a clear winner in the Tinder Plus vs Tinder Gold debate: it's Tinder Plus.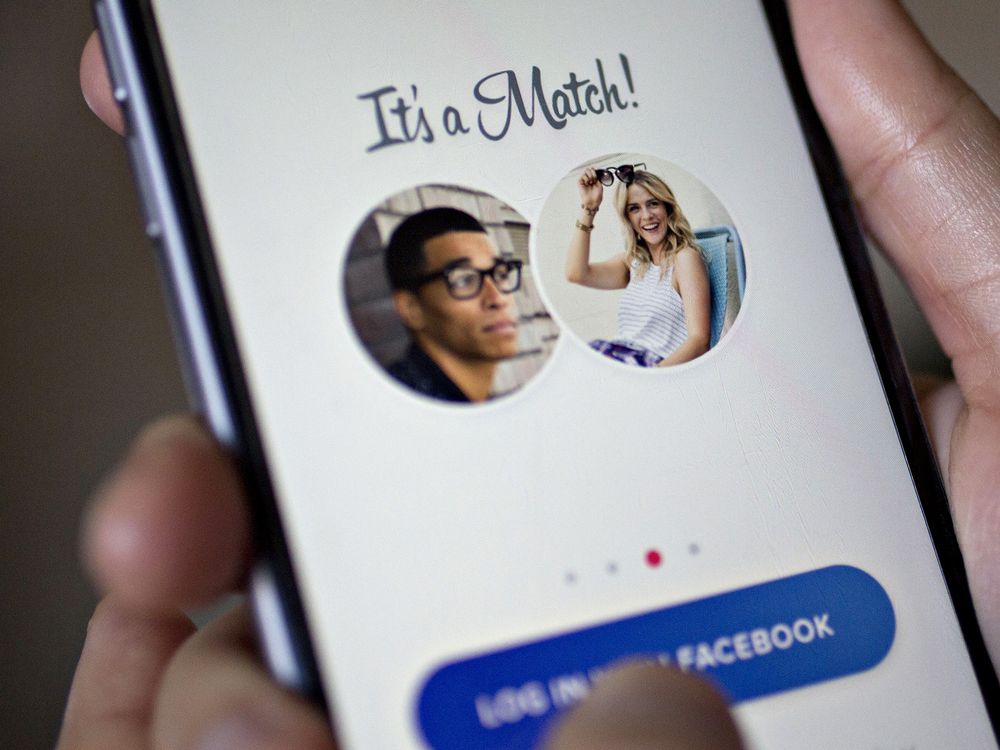 There is absolutely zero reason to pay $30 per month for Tinder Gold. It's a horrid waste of money. Please don't buy it.
You'll inevitably match with people who swipe right on you anyway, so why pay a premium to find them?
Long story short, Tinder Gold is not worth it because it barely adds new features.
Trust me, it's not that important. Besides, if you're a gentleman, you'll probably end up paying for some coffee, drinks, or date outing so better not sink $30 off the bat on stupid Tinder Gold.
Is Tinder Plus Worth It?
Since Tinder Plus is clearly better than Tinder Gold, the real question is, is Tinder Plus worth the cost?
Here are some things to consider before making the purchase:
Your Town's Population – If you're going to swipe through the population of your town in 3 days because you live in the middle of nowhere, Tinder Plus isn't worth it unless you want the Passport feature,
Your Age – If you're a freshman, Tinder Plus is honestly not worth it. You'll meet plenty of people organically on campus, and besides, a lot of older students won't be interested in dating or seeing someone younger so it's sort of a waste.
Your Time-Frame – Alright, I get it: if you just broke up or something, sinking $10 into Tinder Plus isn't necessarily a bad idea to move on with a fling. But, if you're just contently seeing what's out there, don't waste your money.
Verdict: 1 month of Tinder Plus might be worth it if you recently broke up and need a distraction, or if you really want to use the Passport feature.
Should I Get Tinder?
Figuring out if Tinder is worth it for you is really a matter of personal preference.
However, if you want to meet people and you're comfortable with starting a conversation off in person, I think Tinder is a great app to try.
Tinder is by far the most popular dating app of the modern world. The free version also offers enough swipes to test the waters, so at the very least, there's no harm in trying Tinder.
What I will say is that your photos matter…a lot.
I don't care how funny your bio is or how nice you are, people judge with their eyes. Therefore, if your most recent photos are 5 years old and were shot with a potato of a camera, Tinder might be a bit futile.
Get some nice and recent photos (no one likes a catfish).
Ask your boys to help you craft a funny, eye-catching bio if you need help. Alternatively, check out r/Tinder for some useful lines or Tinder profile advice.
Whatever you do, just have fun and don't take things too seriously.
People are on different pages when it comes to using Tinder…some want love, others want a hookup, and some are just there to plug their Instagram handle while showing off their butt.
Nothing is wrong with any of these scenarios. Figure out if Tinder is worth it for you, and go from there.
Just don't waste your money on Tinder gold!
Extra Reading – Is Bumble Worth It?
Tinder Pros & Cons
If you're on the fence about downloading Tinder, here are some of the pros to consider:
Massive User-Base – Most dating apps don't even come close in terms of monthly active users.
Free is Fine – You can get along just fine without spending a dime on Tinder.
Young Audience – Tinder is great for college students or young adults looking for romance.
Versatile Interests – Some apps like Hinge are heavily geared towards people looking to date. On Tinder, you get a mix of people all looking for different things, so there's more options.
However, no app is perfect, and Tinder is no exception. Here are some major cons to consider:
Waste of Time – Some people view Tinder as a waste of time due to miscommunication, ghosting, and the difficulties that come with online dating. Keep expectations low with this app.
Superficial – If you use Tinder for a while, you might feel sort of superficial or like you're doing something scummy. It's honestly a bit of a weird feeling/app overall.
Easy to get Carried Away – If you don't know what you're looking for in a person, it's easy to waste time talking with people you don't actually click with or to get sucked into the vicious cycle of endless Tinder dates. My advice here is to be choosy with who you match with.
Extra Reading – Is Hinge Worth It?
Is Tinder Worth It For Guys?
Typically, you'll find that there are more guys on Tinder than there are women.
A lot more, in fact:
Women definitely have the advantage of Tinder in terms of choice, but honestly, that's fine. I think Tinder is still worth using for guys.
However, this is sort of another reason not to bother with Tinder Plus or Tinder Gold…Take things slow, don't take Tinder too seriously, and just see what ends up happening.
The worst thing you can do on Tinder is to be weird or come across as nuts the first second you get a match.
There are plenty of fish in the sea, so keep that in mind when using this dating app!
Final Thoughts
At the end of the day, there's a reason Tinder is the most popular dating app.
It's global, free, intuitive, and fun. As long as you have some recent and decent photos and don't take things too seriously, I think it's a great app.
If you're in college or in a young city, I also think Tinder is a great way to meet people your age and to force yourself to get out in the dating scene a little more. Even if you aren't looking for anything serious, grabbing coffee or just having fun with Tinder is pretty harmless.
Tinder Plus is worth it for a month or two, but other than that, stick with the free version of Tinder. Your wallet, and sanity, will honestly be better off.
Do you have a favorite dating app or reason you love/hate Tinder? Let us know in the comments!
Looking for more dating content? Checkout: