How Many Likes Do You Get On Tinder? (Every 12 Hours)
This post may contain affiliate links. Please read our disclaimer for more information.
So, you've downloaded Tinder and you started swiping, only to find you run out of likes after a couple of minutes of swiping.
And now you're wondering: how many likes do you get on Tinder per day?
Well, the answer is a little more complicated than it used to be. But, it's important to know so you use your precious likes wisely!
So, let's dive into how many Tinder likes do you get so you know how to make the most out of this dating app.
How Many Likes Do You Get On Tinder?
Tinder used to give users between 100 and 150 likes every 12 hours. However, Tinder now gives people a variable amount of daily likes depending on how the algorithm scores them.
For men, you usually get around 50 Tinder likes every 12 hours. Women get slightly more likes, but how many Tinder likes you get depends on your age, location, gender, and other factors Tinder doesn't disclose.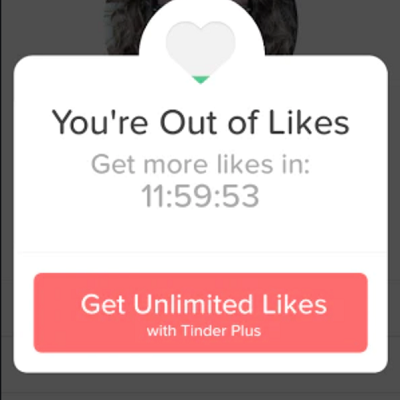 There's also a rumor that if you swipe more quickly and carelessly, Tinder gives you fewer free likes every 12 hours. And men certainly get fewer daily likes than women do on Tinder.
Again, all of this is determined by Tinder's algorithm and how you use the app. But in short, expect around 50 to 100 Tinder likes every 12 hours.
How Many Likes Per 12 Hours On Tinder?
Tinder gives men around 50 free likes every 12 hours on Tinder. Women usually get more likes than men, and this is likely because women swipe right far less often than men do on the app.
And Tinder really assigns daily likes on a 12 hour rolling clock, which is different than daily Hinge Likes that always reset at 4:00am local time.
How Many Super Likes A Day On Tinder?
Tinder used to give you five free Super Likes per day if you paid for Tinder Plus, Tinder Gold, or the most expensive plan Tinder Platinum.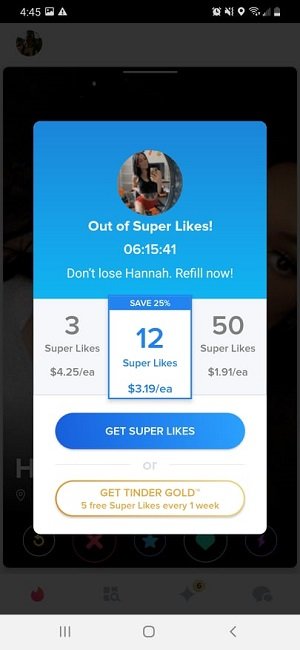 However, Tinder has recently changed its plans and now gives you five free weekly Super Likes with its paid plans.
This means you don't get free daily Super Likes. Rather, you have to wait an entire week from when you use your Super Likes to get five more for free.
How Many Likes On Tinder To Be Popular?
When people ask how many likes does Tinder give a day, they're sometimes asking how many likes people get on their actual profiles per day.
Or, sometimes, people wonder how many likes is a "good" amount on Tinder that shows other people like your profile.
This is very subjective and depends on numerous factors like your:
Age
Gender
Photos
Tinder bio
Location
For starters, know that men swipe right far more often than women do on Tinder, and there's plenty of data to support this.
Additionally, having a complete profile with attractive photos and a witty bio is naturally going to get you more Tinder likes than a profile with ugly photos and no bio.
So in short, the answer here depends.
Our advice is to run experiments with your profile to see if you get more likes on Tinder per day or not.
This could mean changing your first photo around, using Smart Photo, or changing up your bio; test out new profiles every once and a while to see if you get more likes. Also, don't stress too much about getting enough Tinder likes to be popular or to feel like you're "winning" at using the app. Just have fun!
How Do You See Your Likes On Tinder?
As you get likes on Tinder, you'll see a golden number on the bottom of the app that indicates how many likes you get. If you tap on the number, you go to the "Likes" section that shows blurred out photos of the other profiles that have like you.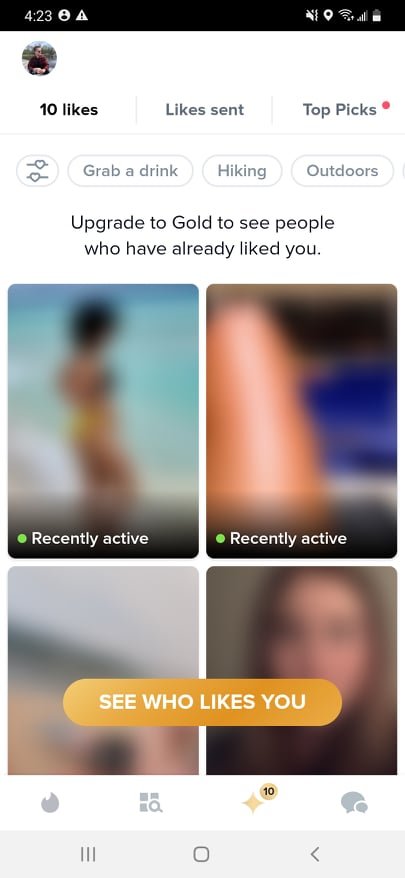 You need to pay for Tinder Gold to see the profiles that like you. If you match with them, the match is highlighted with a Gold Heart to show the match happened because of Tinder Gold.
The like counter stops counting at 99+ likes, so once 100 people like you on Tinder, this counter is always going to show 99+ unless you match with enough people to get under 100 likes again.
What To Do When You Run Out Of Tinder Likes
Now that you know how many likes Tinder gives you every 12 hours, it's time to answer the question of what to do when you're out of likes.
Thankfully, you have a few options here, and some are more budget-friendly than others!
Wait For Likes To Reset
Tinder resets free likes every 12 hours. But the clock starts from when you used your last Tinder like for the day.
So, if you want to maximize how many free likes you get a day with Tinder, use all of your likes in the morning or before you go to bed.
This maximizes the time your likes are resetting and also lets you swipe twice per period you're awake.
Pay For Tinder
Paying for Tinder isn't always worth it. But if you want unlimited likes so you don't have to worry about Tinder's like limit, paying for the app makes sense.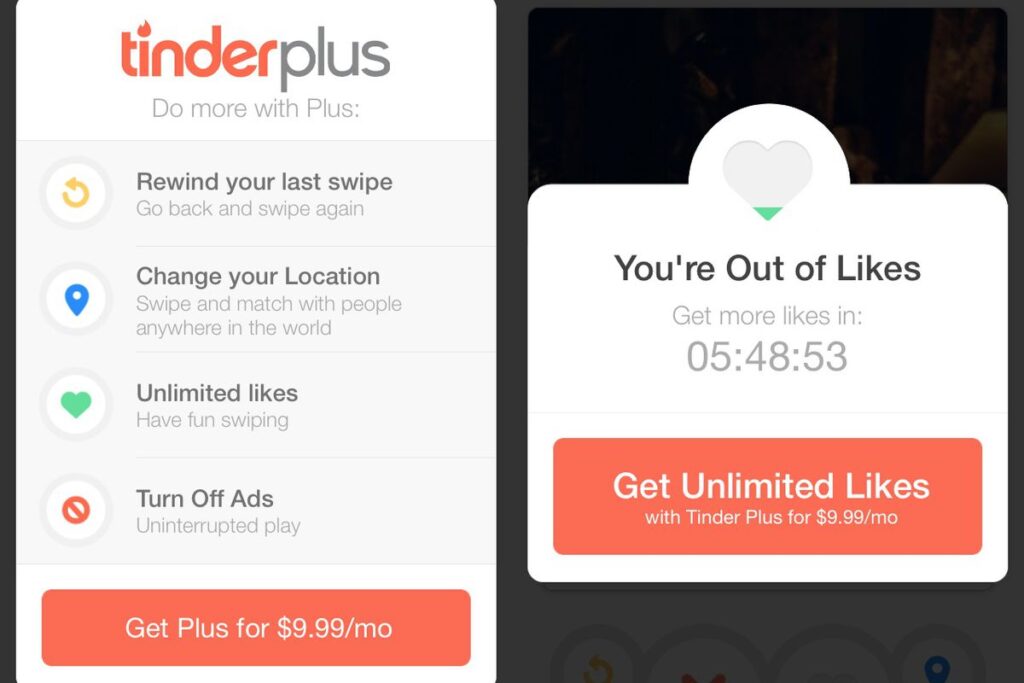 I've honestly paid for Tinder, on and off, for the last 3 years (#SingleLife!). You can do the same if you're new to dating and need to get it out of your system.
Try Other Dating Apps
Tinder limits you to about 50 free likes every 12 hours. But nothing stops you from using other free dating apps in the meantime.
Personally, I also use Bumble and Hinge alongside my Tinder swiping.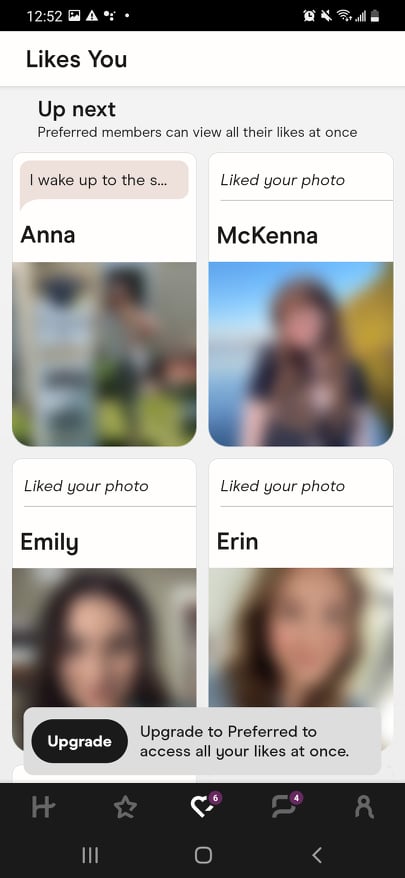 Hinge gives you 8 likes per day, but they're more meaningful. As for the Bumble swipe limit, I get around 30 to 50 free likes every day, but you can also consider paying for Bumble Boost if you want more likes.
Message Existing Matches
A lot of people forget this simple fact, including myself. But if you run out of Tinder likes for the day, you can spend more time messaging your existing matches!
If you're like most Tinder users, you probably have a nice bench of profiles you haven't messaged yet because you were lazy at that moment.
So, while you wait for Tinder daily likes to reset, get to messaging!
This is also a time where you can consider using a Tinder Boost to get more matches to talk to.
Frequently Asked Questions
Is 99+ Likes On Tinder Good?
Getting the 99+ likes icon on Tinder means there's 99+ people that swiped right on your profile. This means your profile is very popular, and it's not something every profile achieves.
Just note that Tinder stops counting after your 99th like, so you might have hundreds of likes waiting for you.
How Many Likes Is Average On Tinder?
It's difficult to find an average number of likes people get on Tinder because how many likes you get depends on how attractive people find you. Plus, your age, gender, and location all play a role.
For example, women usually get more likes on Tinder than men. And if you have very nice photos and a captivating bio, you can probably get 5 to 20+ likes on Tinder per day.
Extra Reading – Does Tinder Notify Screenshots?
Final Thoughts
I hope our guide on daily Tinder likes helps you understand more about how this popular dating app works and how you can maximize your free daily likes.
At the end of the day, how many likes Tinder gives you depends on its complex algorithm, and you're probably getting 50 to 100 free likes every 12 hours.
If you want unlimited likes, you can always pay for Tinder Plus.
Just make sure you optimize your profile as well with some nice photos and a personable bio!
Happy swiping!
Looking for other dating-related content? Checkout: