30+ Awesome Anything But Clothes Costume Ideas – The Perfect ABC Party!
This post may contain affiliate links. Please read our disclaimer for more information.
At some point in time, there's a good chance you're going to get invited to an anything but clothes (ABC) party.
As the name suggests, this means you need a costume that's anything but clothing, so it's time to get creative!
But don't stress: we've come up with some off the best anything but clothes ideas to ensure your next ABC party is a massive success.
There are also plenty of costume ideas for guys and girls, so there's something in this post for everyone.
Let's dive in.
The Best Anything But Clothes Ideas
If you're ready to get your party on, you're in luck.
This list contains our very favorite anything but clothing costumes plus even more ideas to help inspire you!
1. The Paper Bag
One classic anything but clothes party idea is "the paper bag" look.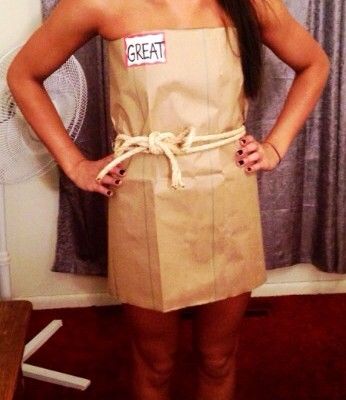 Inspired by the classic children's book The Paper Bag Princess, this is also one of the most simple costume ideas on this list.
You can fashion this costume by combining numerous grocery store bags. Some people also use gift wrapping paper to fashion a dress or undergarments to get the job done.
2. Pizza Box
Another classic anything but clothes party idea is the pizza box.
This idea is easiest for guys because you don't have to cover up top; you can just wear an entire pizza box for your pants and you're off to the races.
Plus, as a bonus, you get to eat the pizza when you order the box to make your costume.
3. A Loofa
One of the more creative anything but clothes costumes is being a loofa.
This is especially popular for girls, and while it takes some serious DIY skills, it's definitely a costume that stands out from the crowd.
4. Beer Box Transformer
This is honestly my favorite anything but clothes costume idea for guys because you basically get to be a transformer for the night.
The idea is pretty simple: get some boxes of beer and use the cardboard to create some sort of mechanized-looking suit.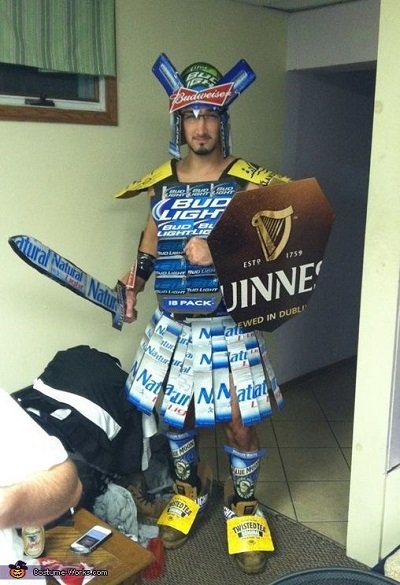 You can go really hard here and make a helmet, shoulder pad armor, or even make an entire mech suit if you're up for a challenge.
This is definitely a classic costume for frat guys or anyone who really likes to party since you'll already have the beer boxes laying around.
5. Wonder Bread
One simple yet hilarious ABC costume idea is to be a bag of Wonder Bread.
This idea really works for any brand, but Wonder Bread is simple because of the recognizable, minimalistic logo.
All you have to do is wrap yourself in saran wrap or fashion something that looks like a bread bag and then add on the logo to complete the look.
6. Caution Tape
If you can find caution tape on Amazon or at a local party store or hardware store, this is another incredibly easy anything but clothing costume you can turn to.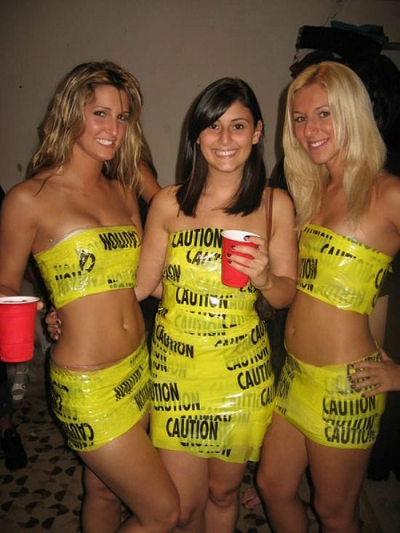 Tape is also great to work with because it lets you get really creative with your outfits.
I mean, you can make a bikini, shorts, or overalls; how creative you get is entirely up to you and your design skills.
7. Vines
If you want to go for the Greek God or Goddess look, wearing a costume made of vines is definitely the right choice.
You can usually find fake vines at any dollar store or online, and once you have your supplies, you can fashion an entire outfit out of the vines.
This is definitely a popular anything but clothes costume for girls, but hey, men can also pull this one off!
8. Duct Tape Costumes
This might be the most common idea on the list, but like caution tape, duct tape is the perfect medium to use for your costume.
What's nice is that duct tape is cheap, readily available, and lets you get creative.
If you need a last minute costume, this is definitely what we suggest.
Even More Anything But Clothes Party Ideas
Those are some of our favorite anything but clothing costume ideas for you to try.
But, if you want even more ideas, here are some other costumes you can try:
Envelope costume
A Victoria Secret bag
Trash bag dress
Plastic bags
Body paint (if you're feeling adventurous)
A shower curtain
Monopoly money
Rubber gloves
Egg crates
Party streamers
Feathers
Candy and candy wrappers
Balloons
Yoga mats
Table cloth
Towels (you can fashion a toga)
Twister board
Playing cards
Chip bags
Paint sample cards (you can do 50 Shades of Gray!)
Condoms
Vape Pod Packs
Red solo cups
Lilly pads
Rugs
Hopefully, this list of costume ideas sets you up for success at your next party!
The Best Anything But Clothes Costume Ideas For Guys
My favorite anything but clothes ideas for guys are:
The pizza box
Beer box transformer
Wonder Bread bag
Egg crates
Condoms
Honestly, you can find so many fun and hilarious ideas that work well for guys, so don't be afraid to get creative!
Extra Reading – The Best Anything But A Cup Party Ideas.
The Best Anything But Clothes Ideas For Girls
Some of the best anything but clothing costumes for women include:
Playing cards
Garbage bag dresses
Duct tape dresses
A Victoria Secret bag
Vines
Again, you have lots of room to be creative, and you'd be amazed at what materials you can turn into a dress or top and bottom that are also secure.
Extra Reading – The Best Highlighter Party Ideas.
Final Thoughts
I hope this list of the best anything but clothes ideas helps you plan an awesome party.
The great part about ABC parties is you don't have to spend a lot of money to let your creativity shine through.
Just remember to party responsibly and to lock up your belongings somewhere when at the party!
Alternatively, build pockets into your anything but clothes costumes so you have somewhere secure for your phone, wallet, and keys.
Happy partying!
Looking for some fun party games to try? Checkout: