10 Highlighter Theme Party Ideas – Throw The Perfect Party!
This post may contain affiliate links. Please read our disclaimer for more information.
If you're in high school or college, there's a decent chance you're going to get an invitation to a highlighter party at some point.
A highlighter party, sometimes known as a blacklight party, is a fun and creative way to throw a party that also lets people get creative with their outfits.
But, what is a highlighter party? And, what clothing and party accessories should you bring to plan the perfect one?
Let's dive into everything you need to know about throwing a highlighter party.
What Is A Highlighter Theme Party?
A highlighter party is a blacklight party where everyone wears a white t-shirt that other people decorate with highlighters. Because everyone is wearing white, the black lights make your t-shirts and the highlighter designs on your clothing glow in the dark.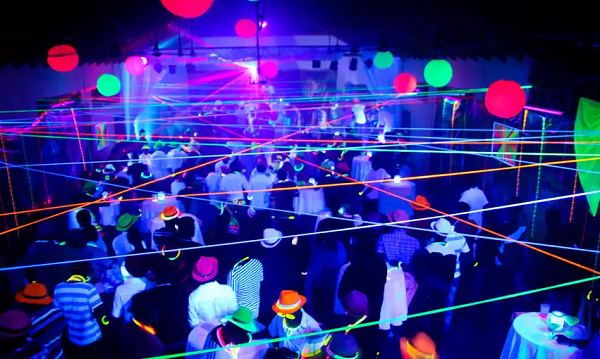 This is a similar concept to a blacklight party where you wear glow in the dark clothing.
However, the main difference is that everyone gets a bunch of highlighters when they arrive at a highlighter party.
Next, people go around the party and draw designs or write messages on people's white shirts.
Because there are blacklights, the highlighter glows in the dark as well, so everyone in the party has a funky and cool highlighter t-shirt to show off!
What To Wear To A Highlighter Party?
You should wear a plain white t-shirt or white long-sleeve shirt to a highlighter party. You can also wear dark colored shorts, pants, or leggings so your shirt is the only thing that glows in the dark and you don't accidentally get highlighter on your pants.
You can also get creative and wear things like white headbands or bandanas if you also want to decorate more of your outfit.
As long as your shirt is white, it should glow in the dark and also let people add highlighter designs to your clothing.
Highlighter Party Ideas & Decorations You Can Add
The two main things you need for a highlighter theme party are white shirts and packs of highlighters.
However, you can definitely get more creative and add even more glow in the dark accessories and party favors.
Some other highlighter party ideas you can add in include:
Silly string
Red solo cups and glowing ping pong balls (if you're throwing a frat party or college party)
Black lights (of course)
Glow in the dark tape to decorate and hang up stuff
Glow in the dark balloons
Neon necklaces and jewelry
Neon streamers
In short, anything that adds more glow in the dark fun to the party is a good thing.
You can keep things affordable by just buying the black lights, white shirts, and highlighters.
But your local party store, dollar store, and Amazon should have fairly cheap highlighter theme party supplies.
Of course, buying things like snacks, drinks, and other party games is also a good call so everyone has activities to enjoy and food to eat during the course of your party.
Extra Reading – The Best Anything But Clothes Costumes.
Who Should Throw Highlighter Theme Parties?
There's no set rules for what age groups should throw a highlighter party.
But, some common groups where this sort of party is perfect include:
Birthday parties for kids
A sweet 16 party
A birthday party at a laser tag facility or glow in the dark mini putt (since it's already black light)
A college frat party
I never threw this sort of party in college. But I did go to a glow in the dark paint rave which was a similar concept and a ton of fun.
The bottom line is that anyone can throw this sort of party, so don't hold back if you want to!
Extra Reading – Should I Join A Frat?
Final Thoughts
I hope our guide on how to throw a highlighter party sets you up to throw the party of a lifetime.
Honestly, this sort of party is so fun and can get very creative, so definitely have some fun and don't stress too much.
As long as you rent or buy enough black lights and get some white shirts and highlighters, you're good to go.
Happy partying!
Looking for some fun college party games? Checkout: